Join us for the
2023 CoHo Clown Festival
CoHo is thrilled to launch our second annual Clown Festival, celebrating physical comedy, movement arts, humor, and fringe performance! Our goal is to embrace the entire clown community and center CoHo as a home to clowns from all walks of life.
Before Philip Cuomo passed, he shared dreams with our team about his vision for the CoHo circus, imagining our little black box theater as a central hub for circus artists across the country to gather, create, and spread joy with their latest creative characters.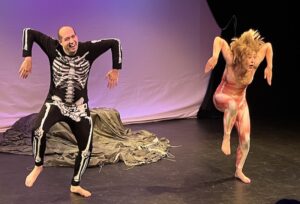 Today, the idea for the circus has evolved into what has become the CoHo Clown Festival, a four-week celebration of all things funny.
CoHo is the place for clown, for physical comedy with an absurdist spin, for community and connection, for laughing and letting go. When our artists find joy, our community finds joy, and we can't wait to share four weeks of playful whimsy with you.
---

The CoHo Clown Festival will take place from September 7 – October 1, 2023 at the CoHo Theater, located at 2257 NW Raleigh Street  Performances will run Thursday – Saturday at 7:30 PM and Sundays at 2 PM. Tickets to all ClownFest performances are Pay-What-You-Can. For those interested in seeing multiple shows during the run of the festival, a ClownFest FastPass grants you entry for one to every show on the 2023 roster. FastPasses are available on sliding-scale basis – Grab yours today!
Interested in catching everything the festival has to offer?
We've got a CoHo ClownFest FastPass for that!

Available on a sliding scale basis, FastPasses for the 2023 CoHo Clown Festival grant you access to every performance during the run of the festival. Socialize with us during the pre-show happy hour in the lobby, dance it out with us during Philip's Dance Ritual, learn all about goofy blood, meat, and bones, catch a Clown-centric cabaret, indulge in a "Sexinar" on the fly, get one of the first glimpses of the CoHo Clown Cohort's lates work-in-progress, and clown around with some of the funniest folx around, all for one fixed price that compliments your budget.
Unlimited Access to all ClownFest 2023 performances (1 entry per FastPass holder, per show)
20% Discount to Sule's Introduction to Mime Workshop

You Book Your Way

 – FastPass holders will receive a coupon code that allows you to reserve your comp tickets to each and every festival show from the comfort of your own home, or surprise our Box Office manager at the door and as long as we're not sold out, we'll get you booked on the spot.
It's Always Happy Hour – Enjoy $1 off of all concessions when you show our Concessions Manager your Festival FastPass.
Punch 'em all – CoHo will have a physical FastPass for you to pick up at your first festival performance. Get a punch for every show you see, and trade in your punch card with 9+ punches for a major discount on CoHo swag! 
Release Your Inner Clown – One red clown nose with every FastPass purchase. 
Unlock insider access to ClownFest performances that truly are the best of the best, brought to you by the funniest clowns in town. Purchase your ClownFest FastPass – Click the link below to book yours today!
Full of whimsy and wonder, we have a wonky, wild, wonderful lineup ahead of us.
Check out what's ClownFest 2023 has in store!
Hosted by Morgan Clark-Gaynor
September 7, 2023 @ 7:30 PM
Come one, come all to the CoHo Clown Festival Opening Follies. Join host Morgan Clark-Gaynor who will lead us in Philip Cuomo's Clown Dance Ritual. Everyone is invited to participate in this joyful, high-intensity, celebratory, guided dance ritual. Bring your dancing shoes and playful spirit, no experience is required. Costume options will be provided. 
OF NOTE: This event is FREE and open clowns of all ages and experience levels.
Presented by Sule Gurbuz
September 8, 2023 @ 7:30 PM
Introducing Sule Gurbuz, a remarkable mime artist with an illustrious career spanning several decades. Sule's extraordinary journey into the world of mime began in 1984 when she embarked on her training under the tutelage of the esteemed mime instructor, Taner Barlas. Together with Taner Barlas, Sule collaborated on the creation of a mesmerizing mime show, which featured a collection of 13 captivating plays. These intricate and expressive performances showcased Sule's exceptional talent for silent storytelling, enchanting audiences with her seamless blend of grace, emotion, and impeccable technique, and now Sule is bringing her latest work to the CoHo Clown Festival!
Presented by Le Why Not Productions
Sept. 9 @ 7:30 PM
From the mind that created the "painfully funny" smash-hit, horny-teen adventure, JUICEBOX (Official Selection 2020 HBO's Women in Comedy Festival), and the body that birthed twins 17 months ago comes Anne Zander is MOTHER, a brand new work-in-progress solo show (BroadwayWorld). A wildly hilarious journey into the postpartum hell– erm, landscape, Anne Zander is MOTHER is clown, character, truth and fantasy, all rolled into one woman, dancing to the beat of her own breast pumps.
Created and Performed by Amica Hunter
Sept. 15 & Sept. 16 @ 7:30 PM
An intimate, unpredictable exploration of pain, zoology, & collective imagination, International Comedian & Weird-Lil'-Gremlin, Amica Hunter, GETS UNDER YOUR SKIN and CRUSHES YOUR FUNNY BONE in this hilarious, captivating, and sometimes-unsettling-comedy about the horrors of living in a body. Part stand-up, part storytelling, and part clown, ANATOMICA is an investigation of the inadequacies of different animal body models, and a celebration of the absurdity of being trapped in a body that is limited by pain, fatigue, and ultimately decay. But, you know, make it fun.
Presented By Sule Gurbuz
September 17, 2023 from 12 – 5 PM 
Join local and international performer and teacher, Sule Gurbuz, in her captivating Introduction to Mime Workshop, where she will guide participants on a journey of self-discovery and artistic expression. Whether you are a seasoned performer or a curious novice, Sule's workshops provide a unique opportunity to delve into the captivating world of mime, refine your technique, and deepen your understanding of non-verbal communication. 
Presented by Julia Bray
September 22, 2023 @ 7:30 PM
All Boats, the beloved community variety show, has teamed up with CoHo's Clownfest to bring you a robust, wacky, wild & daring array of solo and duet performances from some of Portland's most experimental clowns!  Hosted by Renman, your favorite Stand Up Comedy Goblin, this night packed with 4 wildly different clown acts is not to be missed!
Presented by Clown as Protest
September 23, 2023 @ 7:30 PM
Clown as Protest (CaP) is a local clown troupe that uses anti-imperialist clowning to structure social and political agitation toward leftist and humanitarian issues. In their most recent show, a two-headed clown Judge (Judge Boopee) and their three buttcheeks, ahem, clown bailiffs, and Feather Boy (an intern?) are facilitating the trial of three really, really, extra really bad guys who are but puppets of the imperialist state, and it shows. The show will include three accusations, a plea from the accused on trial, and will end with a sentencing by the jury (you, the audience). Someone WILL be pied – catch the show to find out who!
ClownFest Mainstage: The CoHo Clown Cohort
Supported by a Creative Heights grant from the Oregon Community Foundation, the CoHo Clown Cohort was created by Philip Cuomo to cultivate an experimental ensemble of clown performers and contextualize clowning in the modern theatre landscape. Since its inception in 2017, the Clown CoHort has relied on the CoHo Creative Pipeline to generate content and develop its unique style. These days, the CoHo Clown Cohort serves as the funny bone of CoHo Productions, and is proudly funded in part by the Regional Arts & Culture Council.
Presented By The CoHo Clown Cohort
Sept. 29 – Oct. 1 @ 7:30 PM
The CoHo Clown Cohort is developing a new project – Twister – inspired by the 1996 blockbuster. The Cohort, established by Philip Cuomo, has produced 3 full productions, developing shared vocabulary and devising methods through the lens of clown. Using these same skills, the cohort has created their newest production. Twister was chosen as an artistic challenge and the Cohort is excited to answer these driving questions:
How Do Clowns Intersect With Something Epic And Scary?
How Do We Create A Tornado In A Theater?
Can We Find Humor And Tender Emotion In This Dramatic Story?
Whether you have been following the Cohort since 2017 or this is your first introduction, come delight in comedic hijinks and support the creation of the new CoHo Clown Cohort production.
CoHo is a nonprofit theater that heavily relies on the generosity of our community to continue. If you support our mission, please give what you can!