CoHo Clown Festival 2022
Produced by CoHo Productions
September 16 – October 9, 2022


Thursday – Sunday, various times
This September, CoHo is thrilled to launch our first annual Clown Festival, celebrating physical comedy, movement arts, humor, and fringe performance! Bringing in acts from across the city, country and the globe, our goal is to embrace the entire clown community and center CoHo as a home to clowns from all walks of life.
Before Philip Cuomo passed, he shared dreams with our team about his vision for the CoHo circus, imagining our little black box theater as a central hub for circus artists across the country to gather, create, and spread joy with their latest creative characters. Today, the idea for the circus has evolved into what has become the CoHo Clown Festival, a four-week celebration of all things funny.
CoHo is the place for clown, for physical comedy with an absurdist spin, for community and connection, for letting go and letting yourself laugh. Ultimately, the Clown Festival is CoHo's chance to put our theater permanently on the funny folx map. This festival is a festival designed for artists, by artists. When our artists find joy, our community finds joy, and we can't wait to share four weeks of playful whimsy with you.
The CoHo Clown Festival will take place at the CoHo Theater, located at 2257 NW Raleigh Street from September 16 – October 9, 2022. Performances will run Thursday – Saturday from 6-10 PM and Sundays from 2-10 PM at various times. Tickets to all festival shows are Pay-What-You-Can. A Festival FastPass that grants you unlimited access to all the shows at the festival is available on a sliding-scale basis and comes with a plethora of limited-time-only perks. Grab yours today!
CoHo Clown Festival FastPass

Interested in catching everything the festival has to offer? We've got a CoHo Clown Festival FastPass for that!
Available on a sliding scale basis, festival passes for the 2022 CoHo Clown Festival grant you access to every performance on the roster. Socialize with us at a happy hour mixer, dance it out with us during Philip's Dance Ritual, march in a clown parade, catch an improv show, devise a new performance right on the spot, and clown around with some of the funniest folx in town, all for one fixed price that compliments your budget. 
The perks associated with the FastPass are tenfold: 

Unlimited access to all Clown Fest 2022 performances
20% discount on the Introduction to Clown workshop
Faster check-in – Show us your vaccination card the first night, we'll remember you for the run of the festival
Release your inner clown – One red clown nose with every FastPass purchase
Different perks at different donation levels – Free drinks, t-shirts, wine cups, and so much more. Choose the price point that's right for you to unlock limited-time-only festival swag!
Unlock your insider access to CoHo with the 2022 Clown Festival FastPass!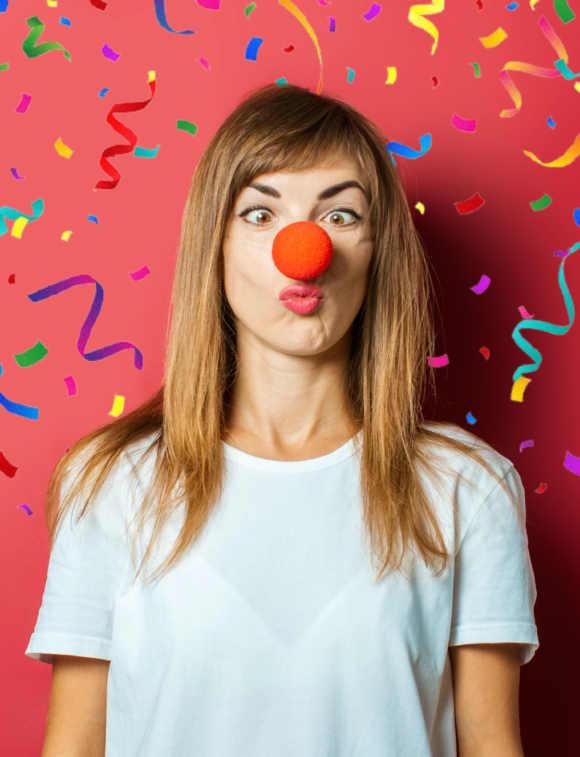 How It Works
Step 1: Select your price point ($50, $75, $100, $150, $200) and book your FastPast.
Step 2: Receive an email confirmation with instructions and your discount for the Intro to Clown workshop.
Step 3: Pick up your FastPass. We'll have your physical FastPass (and any associated perks) waiting for you at the theater.
See the Front Of House Manager when you arrive to pick up your physical pass/perks at your first show.
Step 4: Skip the line! Show your vaccination card to the Front of House Manager when you pick up your pass the first time,
then just show your pass for the rest of the festival when you arrive and come on in.
Step 5: No need to book tickets! Simply show your FastPass to the Front of House Manager at the door and they'll punch your card,
then book your tickets on the spot.
Step 6: Advanced booking available! Want to book ahead of time? Email us and we'll get your tickets to the entire festival on the books.
Step 7: Kick back and get goofy! You now have unlimited, insider access to the entirety of our 2022 CoHo Clown Festival. 
As a FastPass holder, you've unlocked a world of Clown Festival Insider perks! FastPasses are available on a sliding scale and each donation level comes with a pile of associated perks. Perks for each donor level are listed below. Pick the price point and swag pack that works for you, and we'll have your FastPass and perks waiting for you at your first show.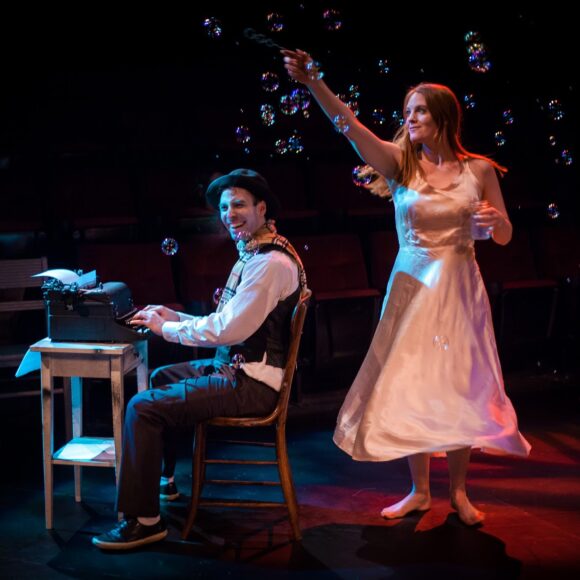 Opening Follies: Clown Dance Ritual
Hosted by Sascha Blocker
Sept. 16th: 6 PM Social Hour, 7 PM Clown Dance Ritual
Come one, come all to the CoHo Clown Festival Opening Follies. We will be hosting a FREE social hour at 6 PM in the CoHo Lobby for community members to enjoy a beverage, gather together, and creatively connect. At 7 PM, Sascha Blocker will lead us in Philip Cuomo's Clown Dance Ritual. Everyone is invited to participate in this joyful, high-intensity, celebratory, guided dance ritual. Bring your dancing shoes and playful spirit, no experience is required. Costume options will be provided.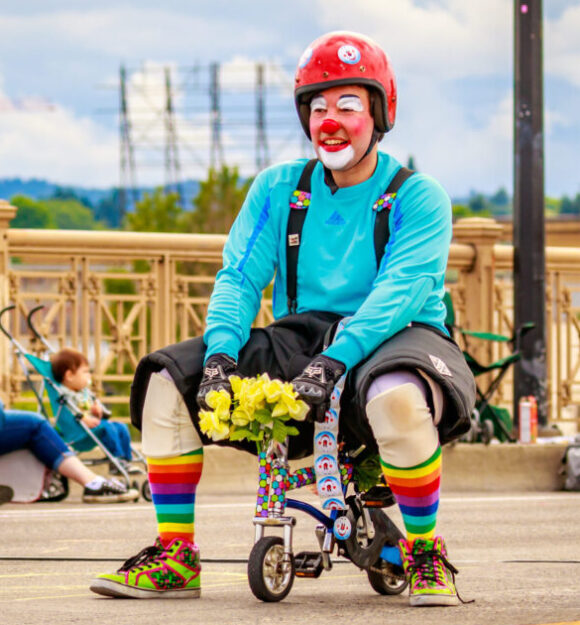 CoHo Clown Parade
Hosted by the CoHo Clown Community
Sept. 17th: 1 PM Performances, 2-3:30 PM Clown Parade
Help us kick off the clown festivities at CoHo with a good old fashion clown parade! Gather outside the CoHo Theater between 1- 2 PM for a crash course in clowning, balloon animals,  circus food, and a mad scientist clown performance from the infamous Dr. OK. At 2 PM, take to the sidewalks with the CoHo Clowns as we march around the Slabtown neighborhood in our CoHo Clown Parade. Don your red nose, goof off, and meet our neighbors as we march up and down the sidewalks with a big brass band, distributing high fives, clown goodies, and generally having a grand old time. The Clown Parade will begin and end at CoHo Productions and will last approximately 60 minutes.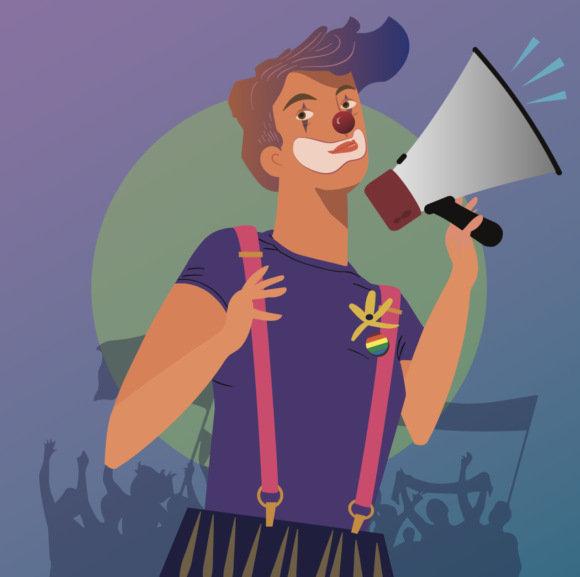 Clown as Protest: Build a Bougie
Created by Morgan Clark-Gaynor
Sept. 17th @ 7 & 9 PM
Watch a troupe of our most hate-able clowns evolve into their worst, most entertaining selves in this game show spectacular! Our contestants will lose themselves in fight for our grand prize, "The American Dream" Package™!
Conceived as the first exploration of Clown as Protest (CaP), a project using Clown to structure social and political agitation towards leftist and humanitarian issues, Build a Bougie explores how we are systemically lured away from our mass belonging and opt for individual safety.
Mind Blown
Presented by Box of Clowns
Sept. 22nd @ 7 PM, Sept. 23 @ 8 PM
From the award-winning physical theatre troupe Box of Clowns, Mind Blown follows two Surrealist artists as they laugh in the face of death while going on a watch-melting journey through their own bizarre dreams. Always clever, curious, and quick on their feet, the dynamic duo distills the art movement through their wildly inventive sense of humor. Follow our artists as they face down the end of the world by creating wild stories, scenes, and images that elude meaning and tickle the funny bone.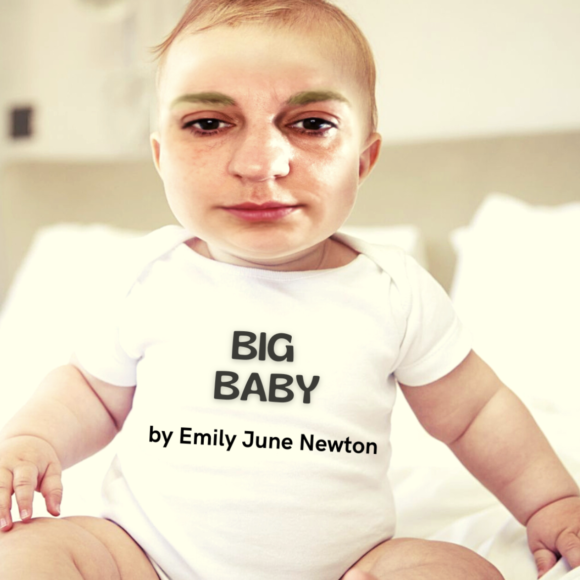 Big Baby
Presented by Emily Newton
Sept. 23rd & 24th @ 7 PM
OPENING ACT: Runtime – 20 minutes
Do you have what it takes to take care of a baby? Come and find out. Inspired by The Rehearsal (HBO) and combining her love of non-speaking characters/interactive performance, long-time CoHo favorite, performer, and grown-adult-woman, Emily June Newton, performs her most ambitious role yet: 'Big Baby'.
Renman Live!
Presented by Julia Bray
Sept. 24th @ 8 PM
Renman (He/Gob) is thrilled to be appearing at CoHo's Clown Festival to close out his stand-up comedy tour–Renman Live! After a sold-out run at the infamous Copa Cave-Ana, Ren was ranked as  #13 "Mythical Stars To Watch" by UGA TODAY. He has opened for iconic comedians such as Donkey (Shrek, Shrek 2, Shrek The Third) and The Geico Gecko. A renaissance man of many tricks and talents, Ren has wowed audiences around the world with his quick wit and dazzling presence. Come learn about Goblin Culture, have a laugh, and see this rising star while you can still say "I knew him when…"!
A Grave Mistake
Presented by A Little Bit Off
Sept. 25th @ 7 PM
Freshly back from tour, Amica Hunter and David Cantor, the dynamic duo who make up sketch comedy troupe A Little Bit Off, present a show about two ruffians running spooky scams to make a buck. Join us for a sloppy slapstick comedy that lets YOU decide the characters' next moves. Botched seances, bungled grave robbing, and a ghostly curse plague these two inept swindlers. Will they get out alive, or will they make A GRAVE MISTAKE?
Clown Workshop: Introduction to Clown
Facilitated by Sascha Blocker & Emily Newton
Sept. 25th, 2-5 PM
Hosted by CoHo Clown Cohort veterans Sascha Blocker and Emily Newton, join us for a crash course in Clown 101! In this 3 hour workshop, participants will enhance their understanding of theatrical clowning and the smallest mask – the red nose. Facilitators will guide participants through games and exercises to discover clown states and apply foundational techniques. No previous training needed, workshop tickets available on a sliding scale basis.
Jouissance: A Movement Piece
Presented by Jordan Kriston & Chenise Crockett
Sept. 30th & Oct. 1st @ 7 PM
Jouissance is a duet between two artists and friends as they explore Movement that brings joy to their bodies, allowing them to share that joy through performance. As life-long movers, athletes, and artists, Jordan and Chenise's primary language is movement. In this work, they tap into that part of their hearts that remains unfazed, unwounded, and untouched to express the pure fun, delight, and privilege of being alive at this moment in time.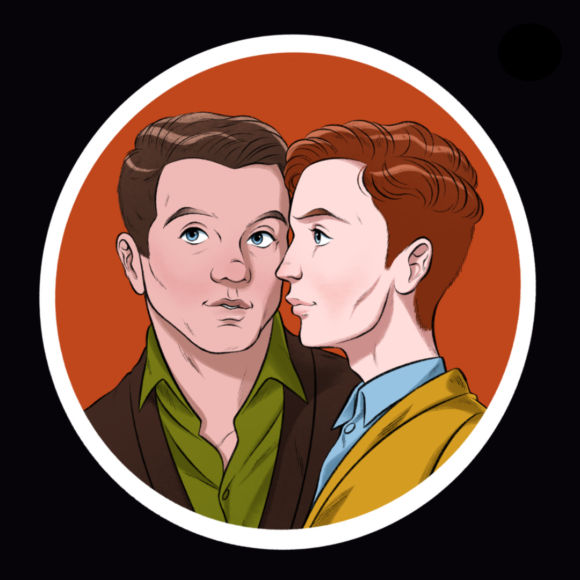 The Nancy Boys: Mystery Detectives
Presented by Nick & Justin Condon
Sept. 30th & Oct. 1st @ 9 PM
Husband team Nick and Justin Condon have been touring and performing together since they met seven years ago. Their chemistry, connection, and shared love for campy narrative gave birth to The Nancy Boys. As plucky brothers Frank and Joe Nancy they've solved a slew of mysteries and shared dozens of characters. Each mystery is completely improvised and every clue is discovered along with the audience as it builds to a climax when The Nancy Boys inevitably get down to the bottom of it. Opening Act from Famke, a sex-positive ally, lover, sexologist guru, and life and death coach who wants YOU to be your best, sexual self!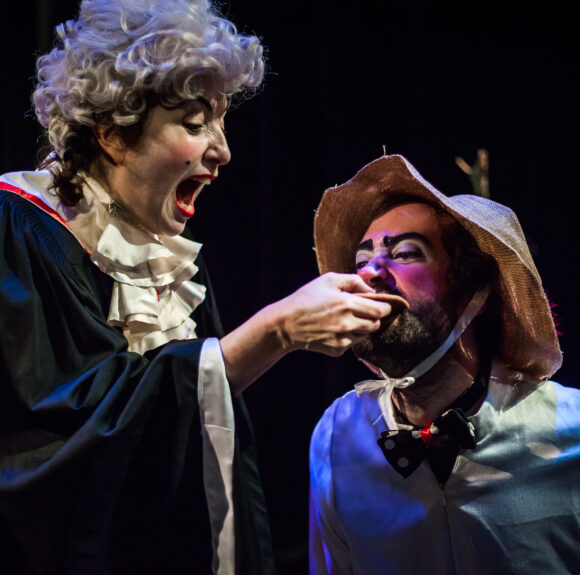 LIVE DEVISE!
Hosted By the CoHo Clown Cohort
Oct. 2nd: 6 PM Social Hour, 7 PM Live Devise
The CoHo Clown Cohort is launching a new clown show and we need your help mining for comedic gold. Join us for LIVE DEVISE to contribute to the creative process! This performance allows audience members to peek into the CoHo Clown Cohort process of using story, themes, and signature clown techniques to generate performance content. The evening will incorporate structured improvisation, suggestions from the audience, and devised "in the moment" bits and your feedback will be an integral part of our creative process as we LIVE DEVISE for you.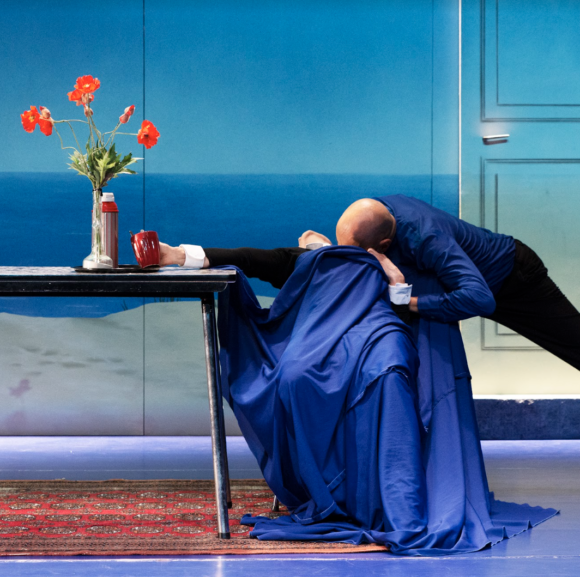 A Knock at the Door
Presented By Giolisu/Teatro Pachuco

 



Oct. 6 & 9 @ 7 PM, Oct. 7 & 8 @ 9 PM
A Knock at the Door takes place on the border between dream and reality, where two strange characters lead us into a surreal universe inspired by silent cinema and the paintings of Rene' Magritte. 
Teatro Pachuco combines the elements of silent film and European clown and distills it with the passion of the Mexican-American culture. The result is a unique style of physical theatre that has entertained more than a million smiling faces on four continents.
Coup De Foudre
Presented By

Giolisu/Teatro Pachuco 
Oct. 7th @ 7 PM

Coup de Foudre is a love story between two men. It is also a love story about old suitcases, fake mustaches, and rubber chickens. The performance speaks about solitude and the search for complicity. From the jungles of Nepal to the red clay streets of Mexico, Teatro Pachuco brings laughter to the masses. Join them for Coup de Foudre, a one-night-only limited performance.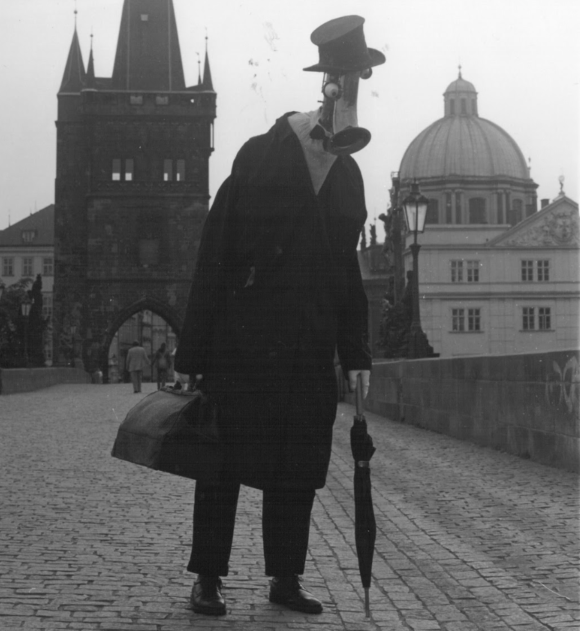 A walk on the Wild Side
Presented By

Giolisu/Teatro Pachuco
Oct. 8th @ 6 PM

In A Walk on the Wild Side, the audience is asked to follow a three-meter-tall lovable giant through the streets of Portland. He leads them to a secret destination where they discover poetry and visceral movement. This production is a triple bill, featuring three short Teatro Pachuco performances in one; The Saxophone Man, Storm, and Le contraire de Un. Catch all three in a row and enjoy a stacked evening filled with whimsy, wonder, and extremely tall clowns.
CoHo is a nonprofit theater that heavily relies on the generosity of our community to continue. If you support our mission, please give what you can!